There is no shortage of things to do and places to see in Singapore.
Singapore is a modern, cosmopolitan mega-center, both a city and a nation in one, and it is the quintessential melting pot of cultures, with weeks of amazing experiences to take in. The challenge is seeing as much of it as you can in the time that you have.
Top Places To See In Singapore
Singapore is just a magical place, on so many levels, so it is really difficult to objectively choose a list of places that you really have to see during your visit. But if you are going to have any kind of list of the top places to see in Singapore, then it is almost certainly going to start with the opulent Marina Bay Sands resort complex.
Marina Bay Sands
The Marina Bay Sands complex has become a calling card of the Lion City, and it includes a high-end luxury hotel, a mall with a canal running through it, the ArtScience Museum, and the SkyPark Observation Deck–a vantage point for taking in the entire city. The viewing deck and infinity pool are found in the ship (yes, ship) that tops the hotel. Only hotel guests are allowed to use the infinity pool, but anyone can visit the observation deck. Visitors can easily spend half a day just exploring this complex.
While up there on top of the city, guests can grab a snack or a coffee at the rooftop restaurant or pick up some keepsakes from the souvenir stand. You can purchase a photo of yourself green-screened in front of the massive hotel as it's all lit up at night, but the cost is steep at 50 Singapore dollars–better to ask a fellow tourist to snap a photo of you if possible. The elegant opulence of the Marina Bay Sands exemplifies Singapore's style and status as a major international city in Southeast Asia.
Address: 10 Bayfront Avenue, Singapore
Official site: http://www.marinabaysands.com/
SkyPark Observation Deck
The SkyPark Observation Deck offers 360-degree views of Singapore, including views of Sentosa Island and the Marina Bay area. You can see the innovative double helix bridge, the port, the Gardens by the Bay (101 hectares of land converted into waterfront gardens), and the impressive skyline.
It also has an outside area with a glass floor that lets you see through to the ground below, as well as an indoor area with 3D projections on walls and ceilings.
ArtScience Museum
The ArtScience Museum is an amazing experience that successfully blends art with science. The stated mission of the Singapore ArtScience Museum is to "explore where art, science, culture and technology come together."
It is located in the Marina Bay Sands complex, and it occupies the iconic lotus-inspired structure that is now recognizable part of the Singapore skyline. The building itself is an amazing exhibit, with ten lotus petal fingers anchored to a round base in the center. The structure actually collects rainwater into streams that run along the roof across an atrium and into a pool in the center, where it later recycled for use in the building.
The museum encompasses 21 gallery spaces that occupies over 5,000 square feet, which allows the museum to organize large scale world class exhibitions, often in collaboration with famous established art museums around the world.
In addition to the art exhibits, the museum presents exhibits that explore aspects of science such as big data, paleontology, particle physics, marine biology, and space.
The ArtScience Museum is open daily from 10am to 7 pm, with last entry at 6 pm.
Address: 6 Bayfront Avenue, Singapore
Official site: www.marinabaysands.com/museum.html
Changi Museum
The Changi Chapel and Museum is a war memorial and monument to the lives and stories of civilian and Allied prisoners held at the Changi prison camp during the period of Imperial Japanese occupation in WWII.
The museum exhibits reveal the harsh conditions that thousands of prisoners endured during the war years. Examples are replicas of murals painted by inmates there, written accounts and stories of the prisoners experiences, as well as portions of the original prison building that have been preserved.
Visitors to the Changi Museum can also visit a memorial chapel, and even light a candle to remember those who were held at Changi during the war.
Address: 1000 Upper Changi Road North, Singapore
Official site: www.nhb.gov.sg/changichapelmuseum
Singapore Botanic Gardens
Established in 1959, the Botanic Gardens in Singapore is without a doubt one of the more impressive places to visit. It is home to thousands species of plants from all over the region, all beautifully displayed in the different sections of the garden.
The Botanic Gardens is famous for its development of various orchids and other tropical flowers and plants. The Botanical Gardens is also famous for the introduction, experimentation and promotion of Pará Rubber, which became a major crop that transformed the economic and social landscape of the region.
Singapore received its first UNESCO World Heritage nomination in 2015 for its botanical gardens, and became the first in Asia to do so. The Botanic Gardens continues to play a key role in keeping Singapore green, tropical, alive and beautiful.
There is much to see and do here. A walking trail leads to the gardens' heritage trees, which are conserved as part of an effort to protect the city's mature tree species. Make sure to visit the impressive National Orchid Garden as well.
Visitors will enjoy the eco-garden, eco-lake, bonsai garden, sculptures, and several other formal gardens.
Address: 1 Cluny Road, Singapore
Official site: www.nparks.gov.sg/sbg
Gardens By The Bay
One might think that a stop at the Botanical Gardens in Singapore would be the epicenter of all things horticultural, but no, you are just getting started. No visit to Singapore is even remotely complete without exploring the Gardens by the Bay.
Set in the heart of Singapore's downtown, Gardens by the Bay is home to an incredibly diverse collection of over 1.5 million plants that hail from every continent (except Antarctica, which is notably lacking in plant life).
Visit the Cloud Forest to see some of the world's most exotic plant species as you walk along its unique aerial walkways. Explore a lush mountain covered in tropical plants and flowers, and be amazed by one of the world's tallest indoor waterfalls.
See the Flower Dome, where the only season is Spring.
And of course, you must explore the Supertrees observatory, which is a iconic image of Singapore.
If you're looking for something fun to do during your stay in Singapore, then this should be on your list of places to see!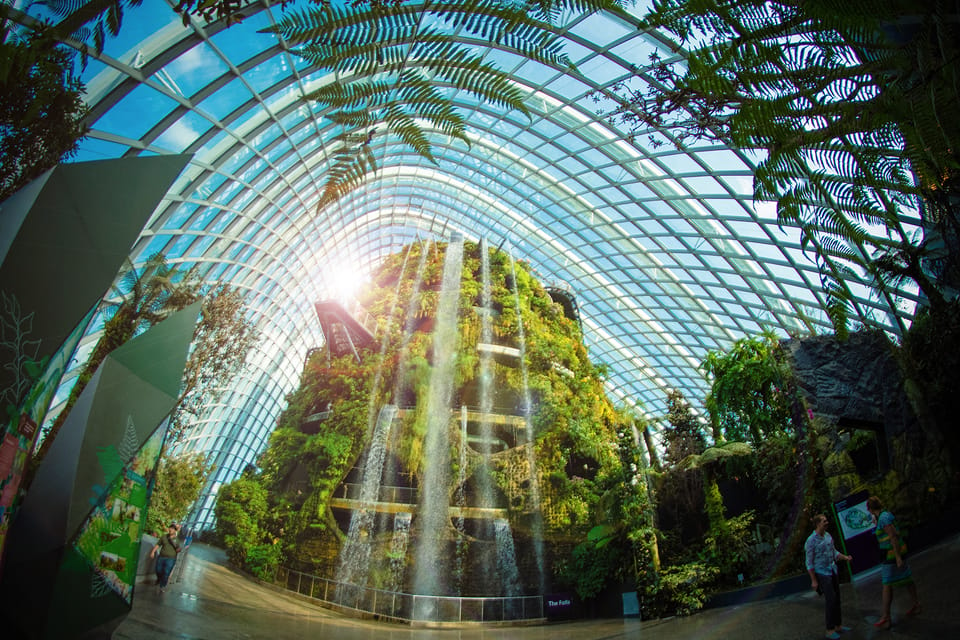 Check the website for ticket sale prices and tour times.
Address: 18 Marina Gardens Drive, Singapore
Official site: http://www.gardensbythebay.com.sg/en.html
Singapore Zoo
Singapore Zoo is the perfect place for a family outing. It has over 10,000 animals from over 600 species in an clean modern park environment, with the animals housed in habitats that are as close as possible to their natural environment. The animals come from all over the world, from Australasia to Africa and beyond.
The Singapore Zoo officially opened in June 1973, and it featured a garden setting with an "open zoo" design, using barriers such as moats and walls, so that most of the animals were displayed in open enclosures that were landscaped to resemble their natural habitats. Initially the zoo featured mostly animal species from Southeast Asia while continually adding more species from around the world. The zoo enjoyed immediate popularity, getting over a million visitors in less than 18 months.
The Singapore Zoo is located in the Mandai Wildlife Reserve, at Mandai Lake, about 30 minutes outside the downtown area, and is a key component of Central Catchment Nature Reserve that integrates five wildlife parks with distinctive nature-based experiences, green public spaces and an eco-friendly resort.
Other key components are Night Safari and River Wonders, both of which are located in adjacent areas of the Mandai Wildlife Reserve area.
Jurong Bird Park is to be relocated to the Mandai Lake area in 2023, and will be renamed Bird Paradise. Rainforest Wild still under development.
The Singapore Zoo underwent major renovations in 2000, and these days the main attractions of the zoo are its 11 theme-based zones. Each zone features various plant and animal species with their environment.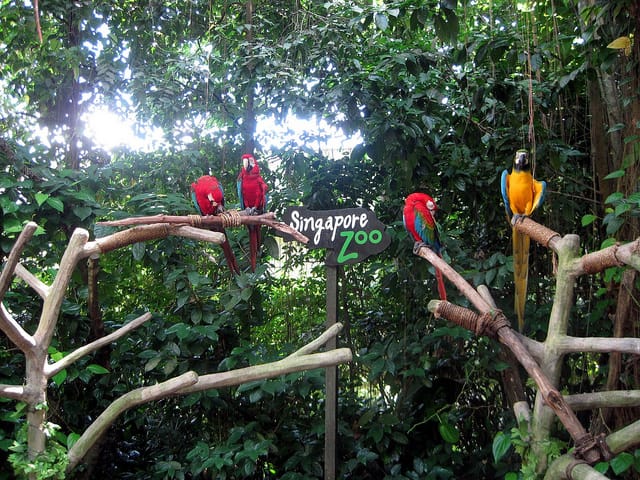 The 11 zones featured at Singapore Zoo are: Frozen Tundra, Wild Africa, Fragile Forest, Australian Outback, Great Rift Valley of Ethiopia, Treetops Trail, Gibbon Island, Primate Kingdom, Reptile Garden, Critters Longhouse, as well as the Tropical Crops & Orchid Garden.
Singapore Zoo is a large park, so it offers guests the opportunity to relax and enjoy their visit on a tram ride that runs through the various park zones. Guests in wheelchairs are welcome, as some of our trams have special slots for wheelchairs.
There are a number of ways to get to the Singapore zoo, so getting there is easy. If you're taking the MRT, you can take the train to any of the MRT stations near the Mandai Park area (see map below). From there, you can hop on a connecting bus that will take you straight to Singapore Zoo.
There is also a loop shuttle service, called the Mandai Shuttle, which runs daily from Khatib MRT Station (NS14) to the Singapore Zoo. You can also drive or take a taxi, and there is a parking facility next to the Zoo grounds. Visit the Singapore Zoo Getting Here page for details.
Address: 80 Mandai Lake Road, Singapore
Official site: www.mandai.com/en/singapore-zoo
Bird Paradise – Jurong Bird Park
Jurong Bird Park Singapore opened in 1971 was the first park in Singapore to have a free-flight aviary. Today the bird park houses more than 5,000 birds across over 400 species, and it is the largest bird park in Asia.
In 2023 Jurong Bird Park will move to Mandai Wildlife Reserve to form an integrated nature and wildlife precinct comprising a new Rainforest Park (not yet opened) and the three existing wildlife parks in Singapore (Singapore Zoo, Night Safari and River Wonders).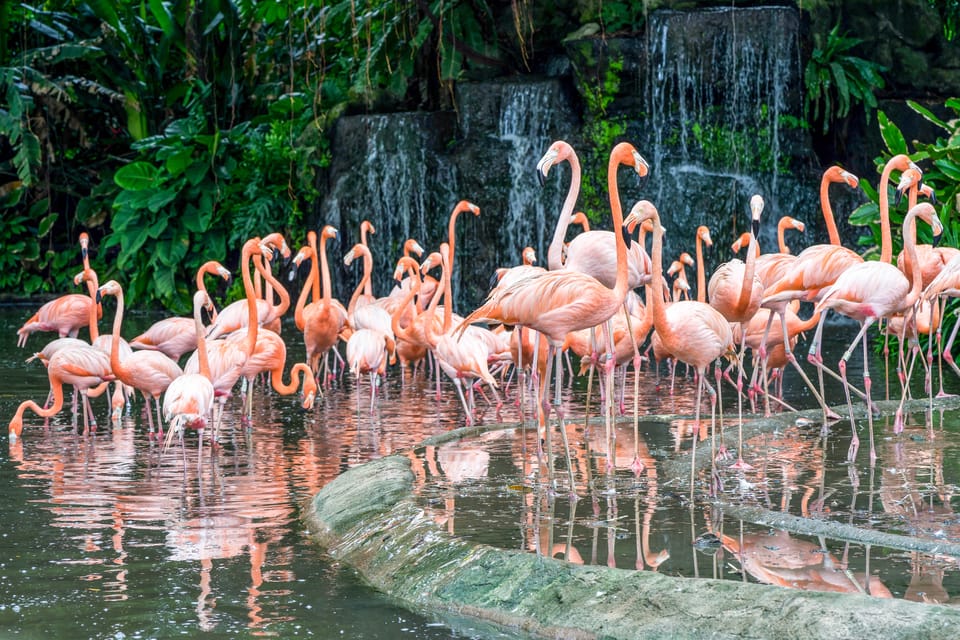 Similar to the Singapore Zoo, the Bird Park offers visitors an immersive experience with large open-concept displays that feature exhibits simulating the natural habitats of birds.
Jurong Bird Park was renovated in 2006.
Exhibits are grouped in zones, such as African Treetops, Wings of Asia, Penguin Coast, Parrot Paradise, Wetland and more. The park also has a walk-in waterfall aviary, a flamingo pool and another walk-in flight aviary. You'll also see exhibits featuring Toucans and hornbills from South America, as well as an impressive Birds of Prey exhibit.
There are various activities at the park such as feedings and shows. Complimentary tram service is included in admission ticket.
Note that Jurong Bird Park is not open everyday. It is open Thursday to Sunday, and on some public holidays.
Address: 2 Jurong Hill, Singapore
Official site: www.mandai.com/en/jurong-bird-park.html
Night Safari
One of the most popular tourist destinations in Singapore is the Night Safari which is a nocturnal wildlife park. Essentially, it is a night zoo.
Night Safari is home to over 900 animals from over 100 species and provides visitors with an opportunity to see animals such as giraffes, tigers, rhinos, and lions in their natural habitat at night.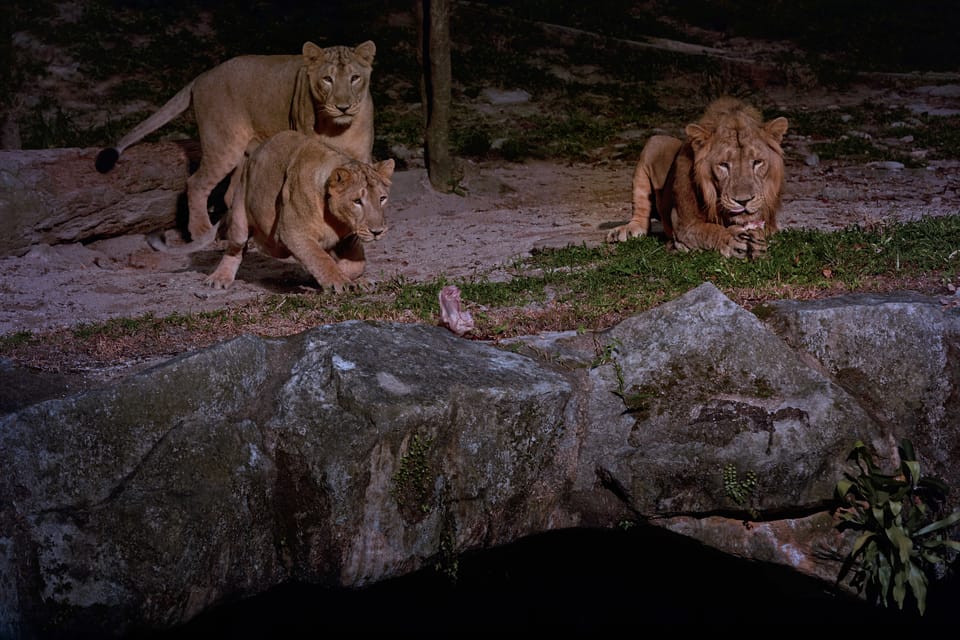 The park is open daily (or rather, nightly) from 6 pm to just past midnight. Last entry is at 11:15 pm.
Address: 80 Mandai Lake Road, Singapore
Official site: www.mandai.com/en/night-safari.html
Jewel Changi Airport
It would be easy to describe this multi-dimensional tourist destination as a massive retail shopping area that is connected to the modern international airport of Singapore, but that would be selling the place short. In fact, it is probably just as fair to ascribe the airport terminals to the Jewel Changi complex, because it just has that much to see and do.
The airport features a lot of things to do, so you won't be bored while waiting for your flight – even if your flight isn't scheduled to depart for a day or two. You can go shopping at the Jewel Changi Airport, where you will find almost endless offerings to explore. Of course, recharge your batteries, relax at one of the many spas, or even get a hotel room there. Enjoy a meal at one of the many restaurants (it might be difficult to choose). And take some time to explore the marvel of this amazing architectural wonder that is the Changi Jewel.
The architects intended for the Jewel to combine two main functions – modern marketplace and paradise garden. It offers a spectrum of facilities, from indoor gardens, leisure attractions, retail shopping and hotel accommodations, all under one roof.
The structure is five stories, centered around a garden attraction with a spectacular waterfall, all covered by a glass roof. This waterfall is known as the Rain Vortex, which is the world's tallest indoor waterfall and transforms into a light and sound show in the evening.
Guests will find Canopy Park on the fifth level, which incorporates 14,000 square meters of attractions integrated within lush garden spaces, including net structures suspended within the trees, a suspended glass-bottom bridge walk, and more.
This is place is beyond amazing, and it would be a crime to overlook it, as it is so much more than just shopping and eateries. Jewel Changi is a monument to the modern miracle that is Singapore, and a worthy destination in its own right. Just promise us that you leave some time to actually get into see the rest of the city during your visit.
Address: 78 Airport Boulevard, Singapore
Official site: www.jewelchangiairport.com/en.html
Fort Canning Park
Fort Canning Park, an iconic hilltop landmark located near Clarke Quay north of the Singapore River, is a historic site with a rich history. It has been transformed from what was once a military base into an urban park that is now open to the public and has become one of Singapore's most popular attractions. Visitors can enjoy various recreational activities such as cycling, jogging, and playing sports at this green space while enjoying the beautiful views of Singapore's skyline.
Today Fort Canning Park is a place for public gatherings with its expansive, sprawling lawns and gardens that play host to all manner of concerts, theatre productions, festivals and celebrations.
The hilltop park was the site of the palaces of 14th century Kings and served as the Headquarters of the Far East Command Centre and British Army Barracks. Fort Canning was also a significant military base for British and Japanese troops during World War II. The decision to surrender Singapore to the Japanese on 15 February 1942 was made on the hill, in the Underground Far East Command Centre, commonly known as Battle Box.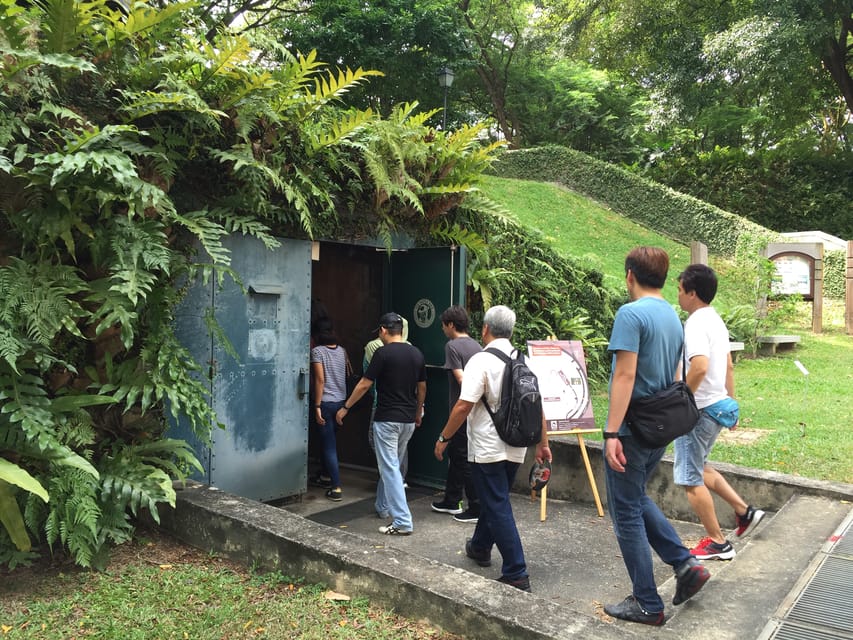 Today, Fort Canning Park features nine historical gardens – the Pancur Larangan, Artisan's Garden, Sang Nila Utama Garden, Jubilee Park (Phase 1), Raffles Garden, First Botanic Garden, Farquhar Garden, Spice Garden and Armenian Street Park.
To get to Fort Canning Park, visitors can make use of the covered escalators from Fort Canning MRT station and Bras Basah MRT station to the North end of Fort Canning Park.
Address: Fort Canning Centre, Cox Terrace, Singapore
Official site: www.nparks.gov.sg/gardens-parks-and-nature/parks-and-nature-reserves/fort-canning-park
Orchard Road
Orchard Road district is one of the most famous shopping districts in Singapore. It's also one of the most expensive districts in Singapore.
The area has been a popular destination for shoppers since the 19th century, when it was first established as a commercial center for British colonists in Southeast Asia. The area was named after its similarity to London's Oxford Street and Covent Garden market.
In 1958, Orchard Road's first department store was set up by local merchant known as C.K. Tang. The opening of this department store, then known as House of Tangs, marked the early beginnings of Orchard Road developing into Singapore's most beloved shopping district.
Today, Orchard Road is home to over 1,000 retail outlets and shopping malls catering to locals and tourists alike, making it one of the most popular tourist destinations in Singapore.
If you like people watching or window shopping, then this area is for you. There are any number of cafes, bars or eateries to investigate, as well as several galleries and museums – all mixed in with parks and green areas. Orchard Road area is considered to be one of the most popular places in Singapore to go for a walk and just experience the city and its vibrant energy and history.
To easiest way to get to Orchard Road is to take the MRT. Look for the MRT stop named Orchard on the North-South Line.
Sentosa Island
Sentosa is an island located south of mainland Singapore and was once a fishing village. Before it was known as Sentosa, this island was a British military fortress. When Singapore returned to British rule following Japanese occupation during World War II, the island was renamed "Sentosa" which means "peace and tranquility" in Malay. 
Today Sentosa has transformed into a modern island resort, known not just for its tropical beaches and luxury resort hotels but also for several popular attractions located there. Chief among these attractions is the Universal Studios Singapore theme park, and the S.E.A. Aquarium (more on these below). Sentosa Island is also home to Adventure Cove Waterpark (located next to the aquarium).
Other popular attractions include Madame Tussauds Singapore, iFly Singapore and Mega Adventure Park – Singapore which features zip line rides, rocking climbs and rope courses.
Even if you aren't planning to spend time in one of the parks, visitors to Singapore will be intrigued by the Sentosa Cable Car that offers amazing panoramic views of the island and the city, moving passengers between Sentosa Island and Mount Faber.
If you are on a mission to reach the beach in Singapore, then Sentosa Island has three good options for you.
Siloso Beach is located on the Western end of Sentosa Island, with plenty of fun local restaurants and cafes in close proximity, and several right on the beach.
Tanjong Beach is located at the Southern end of the island and is considered the party beach. Palawan Beach is mostly frequented by families, located right in the central part of the island, close to the larger resort hotels there.
Sentosa also has a variety of nightlife options for visitors. One can visit bars such as Alibi and Hacienda, or head to one of the many clubs on the island, such as Zouk and Avalon.
Official Site: www.sentosa.com.sg
Sentosa Cable Car
The Sentosa Cable Car Singapore is a fun way to get around the island and take in a birds eye view of the sights. It provides passengers with a view of Sentosa Island, the city skyline, and even parts of Malaysia.
The Sentosa Cable Car runs from Mount Faber to Sentosa Station in just 12 minutes. There is a second line that runs between Siloso Station, on the Northwest tip of the island, to Merlion at Imbiah Lookout Station, which is walking distance to Sentosa Station, and several major attractions.
So the Sentosa Cable Car offers not only incredibly scenic views of the island, but it also provides a quick and easy way to get around the island.
Universal Studios Singapore
Universal Studios Singapore is located at Resorts World Sentosa on Sentosa Island and it is the first Universal Studios park outside of the US. The park first opened its doors to the public in April 2010.
The theme park features 40 attractions across a total of 6 different themed zones in the park, which include Hollywood, New York City, Ancient Egypt, The Lost World, Far Far Away (from Shrek), and Sci-Fi City.
If you have been to similar theme parks in the United States, you will not be disappointed. Universal Studios Singapore has some of the best thrill rides in Asia including Revenge of the Mummy™ The Ride and Transformers™: The Ride-3D.
Address: 8 Sentosa Gateway, Singapore
Official site: www.rwsentosa.com/en/attractions/universal-studios-singapore
Adventure Cove Waterpark
Adventure Cove Waterpark is a waterpark in Singapore with a variety of rides and attractions.
The park has over 14 attractions, including a lazy river, a variety of waterslides and opportunities to interact with live marine life. There are also areas for smaller kids to splash and enjoy the waterpark.
Lay back and drift down Adventure River, taking in 14 stunning themed zones, including a jungle garden and grotto cave.
Race down a slide against your partner on a thrilling two-lane waterslide called Dueling Racer.
Brace yourself for the tipping of the brimming buckets at Big Bucket Treehouse.
Bay Ray Encounter allows visitors to wade in with dozens of rays a memorable feeding encounter.
Snorkel Rainbow Reef amongst 20,000 reef inhabitants.
Pipeline Plunge is a dark tunnel waterslide with radical twists and exhilarating dips leading to a plunge into a pool of water.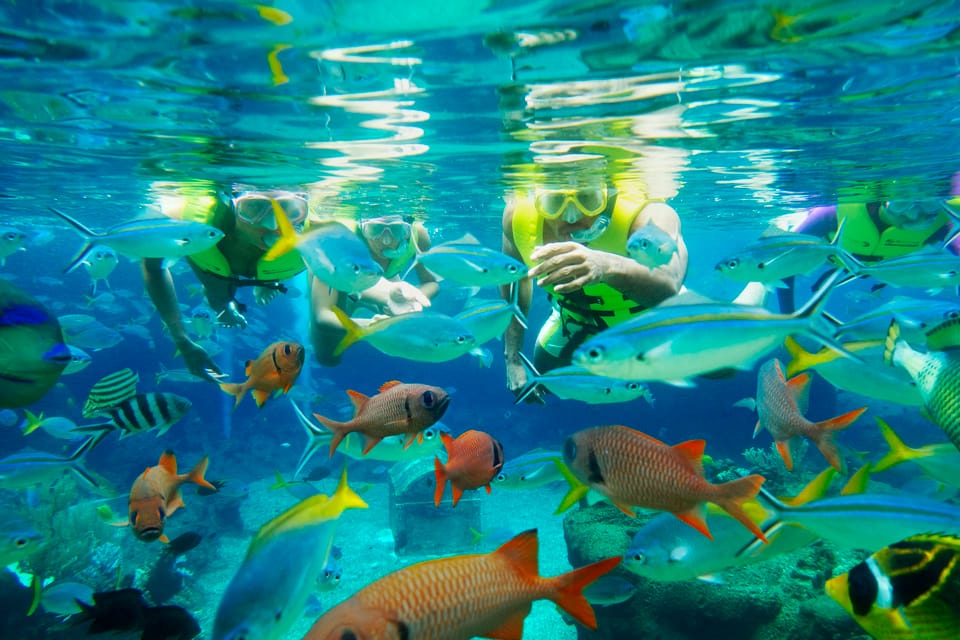 Adventure Cover Waterpark is an obvious choice for families visiting Singapore with children.
Address: 8 Sentosa Gateway, Singapore
Official site: www.rwsentosa.com/en/attractions/adventure-cove-waterpark
Dolphin Island
The Indo-Pacific bottlenose dolphin is the main attraction at Dolphin Island, and this park offers guests a unique opportunity to get up close and interact with them.
Owned and operated by the Sentosa Resort World group, Dolphin Island is part of the same organization as Universal Studios Singapore, S.E.A Aquarium Singapore and Adventure Cove Waterpark.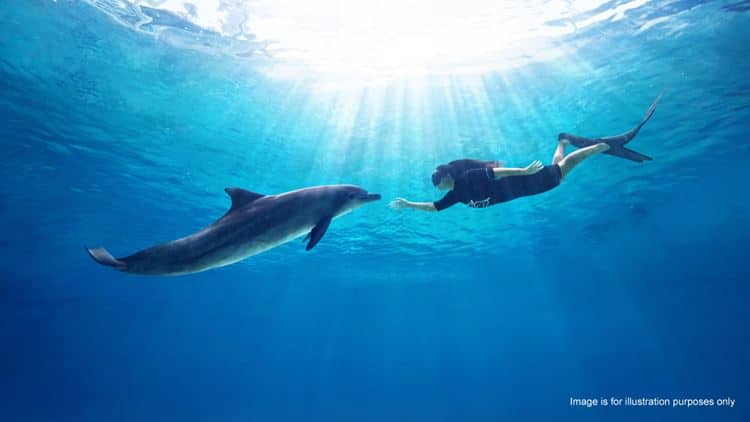 The park offers a diverse range of programs designed for visitor to have their own unique experience with these amazing marine mammals. Guests have the opportunity to swim with dolphins or wade into a shallow pool to interact with them.
Dolphin Island is another great choice for families visiting Singapore with children.
Address: 8 Sentosa Gateway, Singapore
Official site: www.rwsentosa.com/en/attractions/dolphin-island
Singapore: S.E.A. Aquarium
The S.E.A. Aquarium is one of the largest in the world, features over 100,000 sea creatures over 1,000 species. Visitors can explore 8 different zones, each with its own distinctive features and exhibits:
Discover how shipwrecks become artificial reefs and home to sea creatures like the zebra shark at Shipwrecked!, one of the largest habitats.
Explore Singapore's marine biodiversity at School of Fish, with over 5,000 fish.
Experience the diversity of marine life including octopus, dolphins and over 1,000 amazing sea jellies at Ocean Diversity.
Our Open Ocean Habitat is teeming with life with over 40,000 marine creatures across 120 different species. Watch them glide majestically above you at the Ocean Dome!
Meet 12 species of shark, over 100 apex predators of the sea, including the tawny nurse shark and the endangered scalloped hammerhead shark at the Apex Predators exhibit.
Discover the wonders of coral reefs at Underwater City.
Get to know some quirky wonderful marine creatures such as the elephant fish at Quirky Adaptations.
Explore interesting inhabitants and interact with various marine creatures at the Discovery Pool in the Aquatic Ecosystems zone.
The S.E.A. Aquarium is currently open 5 days a week, and requires reservations in advance, so check online for details to confirm.
Address: 8 Sentosa Gateway, Singapore
Official site: www.rwsentosa.com/en/attractions/sea-aquarium
Fort Siloso
Fort Siloso Singapore is a former British coastal defense fort located at the far Northwestern tip of Sentosa Island. The fort originally used by the British as a military base to defend against any potential attack by foreign forces coming from the sea, and to protect the Johor Strait (separating Singapore from Malaysia). Now it has been restored and converted into a museum and exhibition space.
Highlights inside the fort include the many massive cannons on display, three tunnel systems used to move ammunition around, and special exhibits showcasing daily life in the fort for the soldiers living there in the 1800s. There are also guided tours offered, for visitors that are interested in learning more about the history of the fort.
Even without the tours, the Fort is a great place to just spend a few hours exploring.
Of course you can drive to Fort Siloso, but you can also reach the fort by Fort Siloso Skywalk trail, a massive steel bridge suspected several stories up above the lush tropical forest canopy, and offering amazing views the harbor and the rest of Sentosa Island.
The Fort Siloso Singapore is open every day from 9:00 am until 6:00 pm.
Address: Siloso Road, Singapore
Official site: http://www.fortsiloso.com/
Clarke Quay
By now you have gathered that Singapore is a fishing village that developed into a seaport and a massive trading and shipping commercial center, attracting people and ethnicities from all over the world. Clarke Quay is the historic site of docks and stevedoring warehouses where that maritime trade grew and flourished, and which has since been reimagined and developed into a modern vibrant and colorful commercial center.
Today Clarke Quay is a popular place for Singaporeans and tourists alike. This area is set right on the Singapore River, so right away you understand that it is a picturesque spot to just take in the scenery.
Clarke Quay really is an interesting mix of business and entertainment, with a shopping mall and a variety of restaurants, bars, other entertainment spots. There a plenty of food stalls nearby where you can try different types of food from all over Asia. And Clarke Quay is also known as a lively area after dark.
Boat tours are available that cruise up and down the entire length of the river, offering a plethora of interesting sights along the way, continuing from Clarke Quay to Boat Quay, and eventually the Marina Bay.
Nearby attractions include the Asian Civilizations Museum; the Civil Defense Heritage Gallery located in Singapore's oldest fire station; and the Hong San See Temple, a picturesque century-old Buddhist place of worship.
Merlion Park
Merlion Park is a popular tourist destination in Singapore. The park is located on Marina Bay near the mouth of the Singapore River right on the edge of the Central Business District, and it features a statue of the mythical creature with the head of a lion and body of a fish.
The Merlion represents the city's humble start as a fishing village combined with its traditional Malay name Singapura, "lion city."
The 70-ton Merlion structure stands at 8.6 meters tall and spouts water from its mouth in a fountain.
Merlion Park is an ideal spot for photo-ops, whether you are taking a selfie in front of the iconic creature or capturing the magnificent views from the park as it looks out over the bay.
Address: One Fullerton, Singapore
Singapore Flyer
The Singapore Flyer is an observation wheel in Singapore, the largest in Asia, reaching a height of 165 meters. The Flyer offers guests panoramic views of Marina Bay and the rest of the city.
The Singapore Flyer is often cited as one of the top tourist attractions in Singapore by the media, and has become a landmark.
The Flyer provides 360-degree views of the city and its surroundings, including the sea, Sentosa island and the mainland of Malaysia across the straits.
It features 28 air-conditioned capsules that can accommodate up to eight passengers each in addition to one accompanying guide.
Learn about places of interest with the in-capsule interactive guide before exploring them on foot.
Flights last 30 minutes and run from early morning until late at night, so you can choose which view of the city you want to enjoy: the beginning of another bustling day or when Singapore is aglow after dark.
Address: 30 Raffles Ave, Singapore
Official site: www.singaporeflyer.com
Raffles Hotel
Located in the heart of Singapore, Raffles Hotel is a historical landmark that is still today considered one of the top five-star luxury hotels in the city. Raffles Hotel is a colonial style hotel that opened its doors in 1887, and has served as a city landmark for well over a century and continues to live up to its storied reputation with excellent food and service.
The hotel was named after British statesman Sir Thomas Stamford Raffles, the founder of modern Singapore – first establishing Singapore as a trading post in 1819 and then a British colony in 1824.
The classical architecture and tropical gardens provide a refined setting and represent another facet of Singapore's varied and rich history, taking guests back in time.
A short visit to the Grand Lobby will introduce visitors to the world famous Sikh Doormen dressed in their white turbans and the Grandfather Clock, considered the oldest piece of furniture in the hotel.
Take a few minutes to visit the Long Bar, two-story bar located on the second floor, which is known for being the original home of the Singapore Sling, the world famous pink cocktail created in 1915 by bar manager Ngiam Tong Boon. The Long Bar is also known as the only place in Singapore where "littering" is permitted, where bar patrons toss peanut shells onto the floor.
Raffles Hotel Singapore is a unique blend of luxury hotel property with five-star amenities, history and an ideal location in the center of Singapore, in close proximity to many of the museums, galleries, parks and other notable places of interest in Singapore.
Address: 1 Beach Road, Singapore
Official site: www.raffles.com/singapore
Chinatown
Singapore is a small country but it is home to a diverse mix of cultures, religions and languages. One such example of the cultural diversity in Singapore is the Chinatown district. The Chinatown district in Singapore is one of the largest Chinese settlements outside mainland China.
It is known to be one of the oldest and most densely populated areas in Singapore. The area has a large concentration of Chinese temples, shrines, and other religious buildings which are mainly Taoist, Buddhist or Confucian.
Sir Stamford Raffles allocated the area west of the Singapore River for a Chinese settlement known as the Chinese Kampong (community settlement), anticipating that Chinese would immigrate to the city in search of trade and economic opportunity. In fact, there were even sections of the community allocated to each Chinese community of the same provincial origin and dialect group.
Even today there are still 5 distinct districts within Chinatown, and in fact the government of Singapore has granted historical conservation status to these areas, in order to restore and preserve the older buildings and ultimately the culture and unique feel of these districts:
Kreta Ayer is the heart of Chinatown, home to an assortment of traditional trades, homegrown brands and some of the best hawker food around. In the early 19th and 20th centuries, water drawn from wells near Ann Siang Hill was transported in bullock carts named Kreta Ayer today, which means "water cart" in Malay.
Ann Siang Hill and Club Street is known as a fun hangout area for the younger crowd, with its small unique cafes, bars and rows of restored shophouses that line its streets, one of the distinct features of this district.
Telok Ayer is best known for its prominent places of worship, but it also offers a range of fun shops, cafes and bars. McCallum Street contains old buildings of historical interest today, such as the Thian Hock Keng Temple, Fuk Tak Chi Temple, Nagore Durgha Shrine, Al-Abrar Mosque, the Chinese Methodist Church and more. Telok Ayer Street was named after Telok Ayer Bay, located at the foot of Mount Wallich. The Malay name refers to "bay water" as it was the coastal road along the bay.
Tanjong Pagar was historically a settlement of Chinese and Indian dock workers who migrated to Singapore. Over time, the dock operations fueled economic growth and the district gradually developed in a working class area. At one point it was a hub for rickshaw pullers. The district name in Malay means "cape of stakes", referring to its origins as a fishing village. 
Keong Saik/ Bukit Pasoh is a charming blend of the old and new, with historical associations housed right next to trendy hotels and restaurants. This area got its name from the Ali Baba jars, the pasoh used to store rice or water in homes. Pasoh is the Malay word for "flower pot", where earthenware pots used to be made.
Contrary to its name, Chinatown is not exclusively Chinese. Small communities of Indian traders settled in the area, as evidenced by Indian temples and Muslim mosques that can be found in the area.
So allow some time during your stay to explore Chinatown, because there is a lot here to see and do.
Official site: www.chinatown.sg
Little India
Singapore is a culturally diverse country, with the majority of its population being Chinese. Singapore is also home to one of the largest Indian communities in Asia, called Little India.
Little India is a place for shoppers and foodies alike. Here you can find everything from spices to gold jewelry to traditional clothing. You'll also find plenty of restaurants serving Indian cuisine as well as many vegetarian options. The area also has a vibrant nightlife scene, with plenty of bars and clubs to choose from.
There is packed with Hindu shrines and temples, including the Sri Veeramakaliamman Temple which is not to be missed. There is also the Masjid Abdul Gaffoor, one of the oldest mosques in the city and another prominent structure that you will certainly notice while you are there.
Get some souvenir shopping in at the Little India Arcade, a bustling indoor emporium with vendors selling all manner of fun little trinkets.
Little India today is one of Singapore's most vibrant districts, offering plenty for senses with its lively colorful atmosphere and the delicious food, this area is definitely not to be missed.
Official site: visitsingapore.com/see-do-singapore/places-to-see/little-india/
Kampong Gelam
Kampong Gelam is a historic village in Singapore that has been around since the 1800s. The word 'kampong' means "compound in Malay, while "gelam" refers to the long-leaved paperbark tree, commonly found in the area and used for boat-making, medicine and even as a seasoning for food.
The district has a history that dates back to Singapore's colonial era, when Sir Stamford Raffles allocated the area to the Malay and Arab communities.
It was once a rural area with compounds and plantations, but now it is home to many of the city's most popular attractions, including the National Museum of Singapore and the Malay Heritage Center.
One of the prominent structures in this district will be the Sultan Mosque with its golden domes. Built in 1824 by Sultan Hussein Shah, this magnificent place of worship is one of Singapore's most prominent religious buildings. Tours of the mosque are available in English and several other languages.
You can find traditional Malay houses with their typical roofs, vegetable gardens, and coconut trees. The village also has many shops selling different products that you can't find anywhere else in the city. There are many events happening year-round like traditional dances, cooking classes, and more.
Official site: visitkamponggelam.com.sg
Palau Ubin (Granite Island)
Palau Ubin is a relatively unknown attraction in Singapore. It is a nature reserve on the edge of the city, and it has been designated as a UNESCO World Heritage Site since 2008.
The island has been preserved as a nature reserve, and there are no cars allowed on it. Visitors must take a ten minute ferry from Changi point to reach the island. Palau Ubin is an ideal place to go for those who want to escape the hustle and bustle of the city. The park offers some great hiking trails, which are perfect for those who enjoy nature and want to spend some time away from urban life.
The park also has an interesting history that makes it worth visiting. It was once used as a quarry by British colonizers during their occupation of Singapore, but now it is home to many plants and animals that are native only to this area of Southeast Asia. Plus the small rural kampongs and fishing villages are preserved here, as well, offering visitors a unique glimpse into what life was like a century ago before the modernization of Singapore.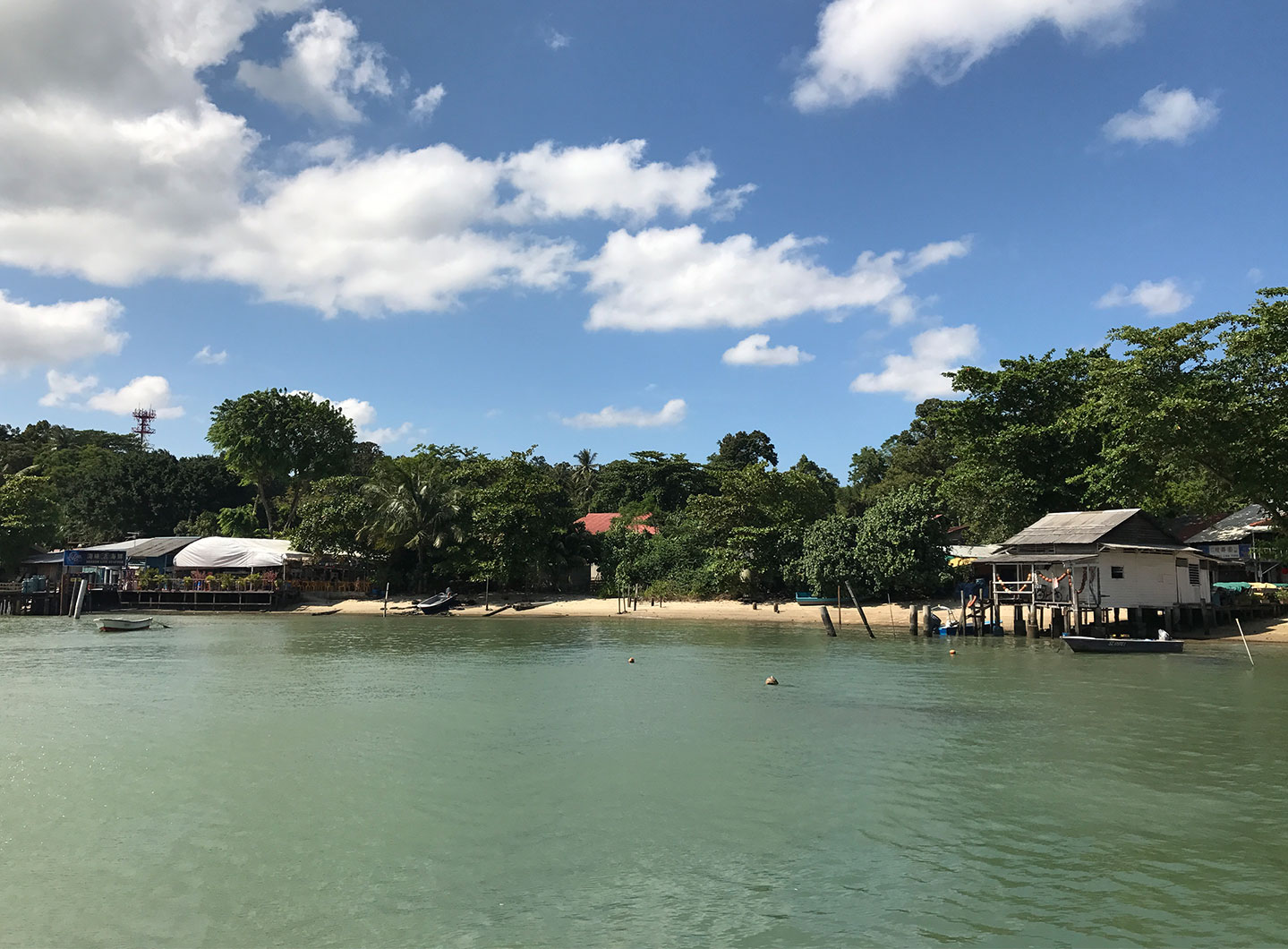 Obviously the big draw at Palau Ubin is nature, an opportunity to get out, stretch your legs, hike and bike to you hearts content. There are many trails and paths to explore, and visitors can also enjoy the views of the sea from various vantage points.
Download a map of Palau Ubin here.
Official site: www.nparks.gov.sg/gardens-parks-and-nature/parks-and-nature-reserves/pulau-ubin-and-chek-jawa
National Gallery Singapore
The National Gallery Singapore is a national art museum that houses the country's most important collection of Southeast Asian and South Asian art. The museum was established in 2015 and has been open to the public since October 2016.
The National Gallery Singapore occupies two national monuments: former Supreme Court and City Hall. These two structures were declared national monuments in 1992. Many of the historically significant events in Singapore literally took place right here on site, and so this is in some respects a museum of history as much as it is a world class art gallery.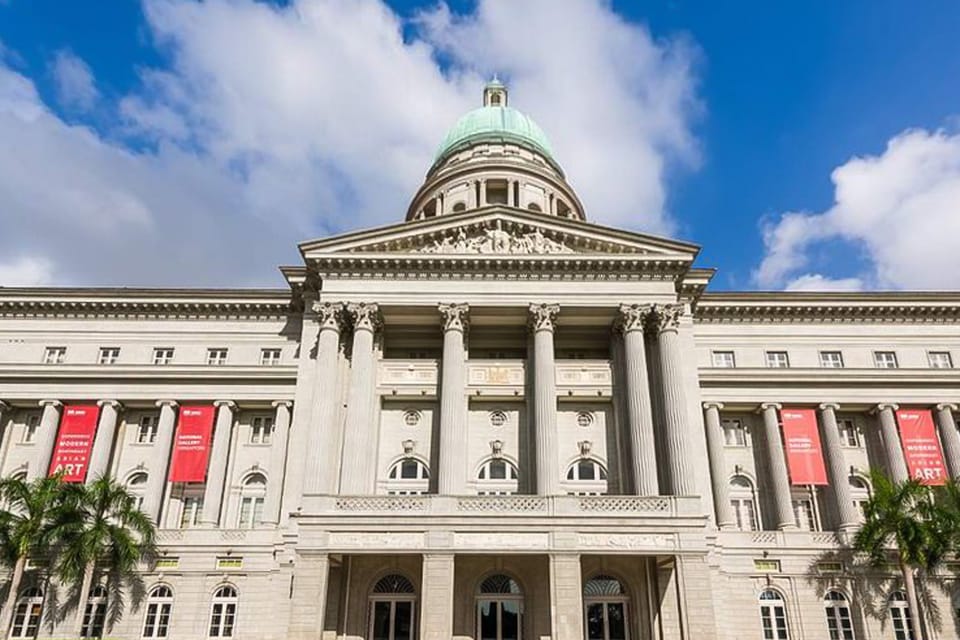 Home to the largest modern art collection in Southeast Asia, the National Gallery aims to provide an understanding and appreciation of art and culture through a variety of media, focusing on Singapore's culture and heritage and its relationship with other asian cultures and the world.
The National Gallery features over 9,000 works of art in a massive facility that covers more than 64,000 square meters, making it the largest museum in Singapore, and one of the largest visual arts venues in the world.
Interestingly, the National Gallery is an intriguing dining option, with several award-winning restaurants on site, include one that has won three Michelin stars.
Free tours are available in English and Mandarin, and the gallery also offers workshops, open performances, and special presentations for both adults and children.
Address: 1 St. Andrew's Road, #01
Official site: https://www.nationalgallery.sg
Asian Civilizations Museum
The Asian Civilizations Museum Singapore first opened in April 1997 in another location, but moved into its current location in 2003 with the renovation of the Empress Palace Building. The focus of the museum also expanded with the move, to include historical collections from all over Asia.
The museum has a variety of exhibits from different countries like China, India, and all across Asia. The museum has organized its exhibits into three main pan-Asian cross-cultural themes. The first floor is, not surprisingly, home to the Maritime Trade galleries where visitors can learn what early trade and globalization really looked like years ago. Second floor galleries present systems of Faith and Belief; their origins in Asia, their spread across the continent by land and by sea. And the third floor is dedicated to decorative art, where the theme is called Materials and Design and the galleries celebrate Asian craftmanship and culture.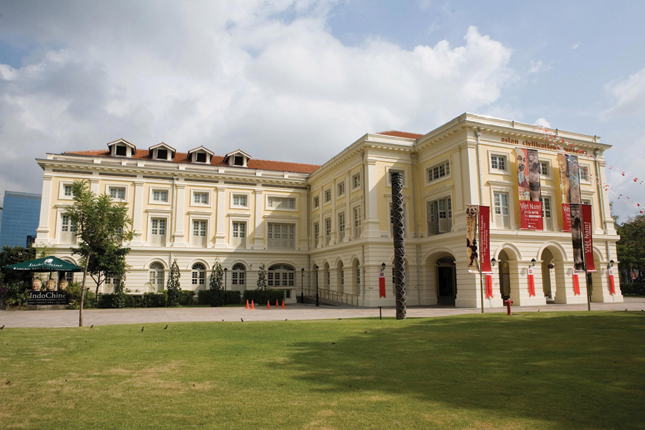 Of course, the renovated Empress Place Building is a grand venue in its own right. For more than a hundred years, this building housed colonial and, later, Singapore government offices from customs and immigration to the legislative council.
Like the city itself, the Asian Civilization Museum does a remarkable job at modernizing and preserving its past and highlighting it's multicultural roots.
Address: 1 Empress Pl, Singapore
Official site: www.nhb.gov.sg/acm
See our Singapore Tour Page for a selection of short stopover packages or holiday city stay packages, that include a hotel with breakfast (some have 1 lunch included) as well as local sightseeing with ground transportation and a local guide.
Start Planning Your Trip To Singapore
This island nation may be small in geographic size, yet the endless amount of activities and singular beauty of its natural features make it a very special place to visit.